Experiment 16: Upgrading Ink Tests With the Col-o-ring
I think one of my favorite parts of participating in the stationery community online is seeing and hearing some of the behind the scenes of how a new product comes to market or a new company is born. There's just something about hearing about an idea in its infancy stages and then seeing that same idea come to life that is really inspiring and interesting. I can't seem to get enough of thinking and learning about everything that goes into making an idea a reality, what separates a bad idea from a good idea, and what distinguishes a good idea from a great one.
I think there are many factors that go into making a good product. And there are TONS of good products out there. But there is something truly unique about a great product. From my perspective, great products are typically the result of three intersecting aspects: the right team makes the right product at the right time. When those three things all come together in one idea or product- some really awesome things come about as a result.
I can honestly say that the Col-o-ring is a simple and perfect proof of concept for these ideas.
Right team- Can anyone really think of a better duo to create an ink testing book than a letterpress expert and an art-supply guru? If you need more evidence, just listen to Episode 250 of the Pen Addict where Ana details all that went into selecting the perfect paper for this project.
Right product- This product kills it in just about every category. The branding is genius, the aesthetic is simple and clean, the packaging is stellar, and the quality is outstanding. This paper is by far my favorite type of paper I have ever tested inks on. It far outperforms even much more expensive watercolor paper- it effectively captures sheen, shading, and shimmer with barely any bleed through, feathering, or warping of the paper. It must be magic, and it's honestly hard to imagine a more ideal solution.
Right time- One of the only similar solutions for ink swab books was discontinued, leaving many ink aficionados without a good way to test and catalogue their inks. I came into the hobby after that product had already been discontinued, so I can attest to the struggle finding a solution. I spent more than one afternoon wandering up and down the local art store aisle looking at different types of paper and paper formats. This product fit a very specific gap in the market, and was released at the perfect time to fill that gap.
Comparing ink behavior on the Col-o-ring to other types of papers:
Needless to say I was pretty excited about the release of this product. I knew I wanted to re-catalogue my entire ink collection utilizing the Col-o-ring, and after it arrived I sat down to re-think my process for swabbing ink. After watching Ana's Ink Testing Techniques video, I decided to stop using cotton swabs and instead utilize a paint brush. The paint brush was also a perfect way to make use of my custom Inkpothesis stamp, and give my ink swabs a unique feel. I haven't quite masted use of a dip nib, so I wanted to adapt that part of the process a little. I decided to try dipping my sailor zoom nib in the inks, which would hopefully allow me to showcase both a medium/broad line and more fine lines.
Because the zoom nib, paint brush, and stamp needed cleaned and dried between each ink swab, it was more time consuming than my old method, but I am also really happy with the results. Once I moved the process to my kitchen counter next to a sink, I was able to whip through these in about 3-4 minutes per swab.
My basic process was to paint the stamp with the ink, stamp onto a Col-o-ring sheet, and then use the paint brush to add additional ink to the stamped area. I then did a series of mini-swabs with the paint brush around the stamp- wiping the paint brush off a little in between ever two mini swabs. I was hoping this would showcase the full shading properties of the particular ink. Finally, I dipped the Zoom nib in the ink and added brand and color name- specifically trying to use both broad and fine lines.
Shimmer, Sheen, and Shading: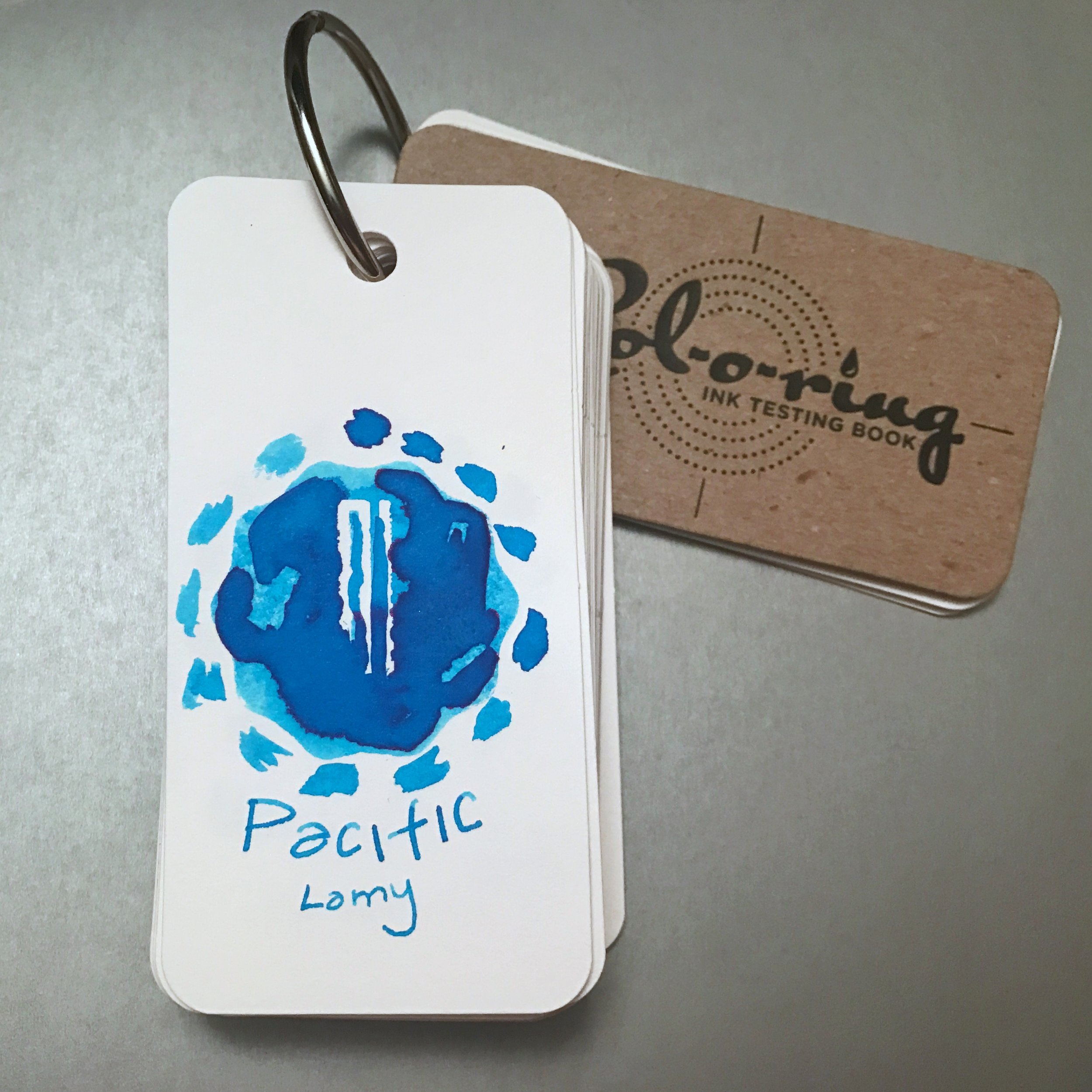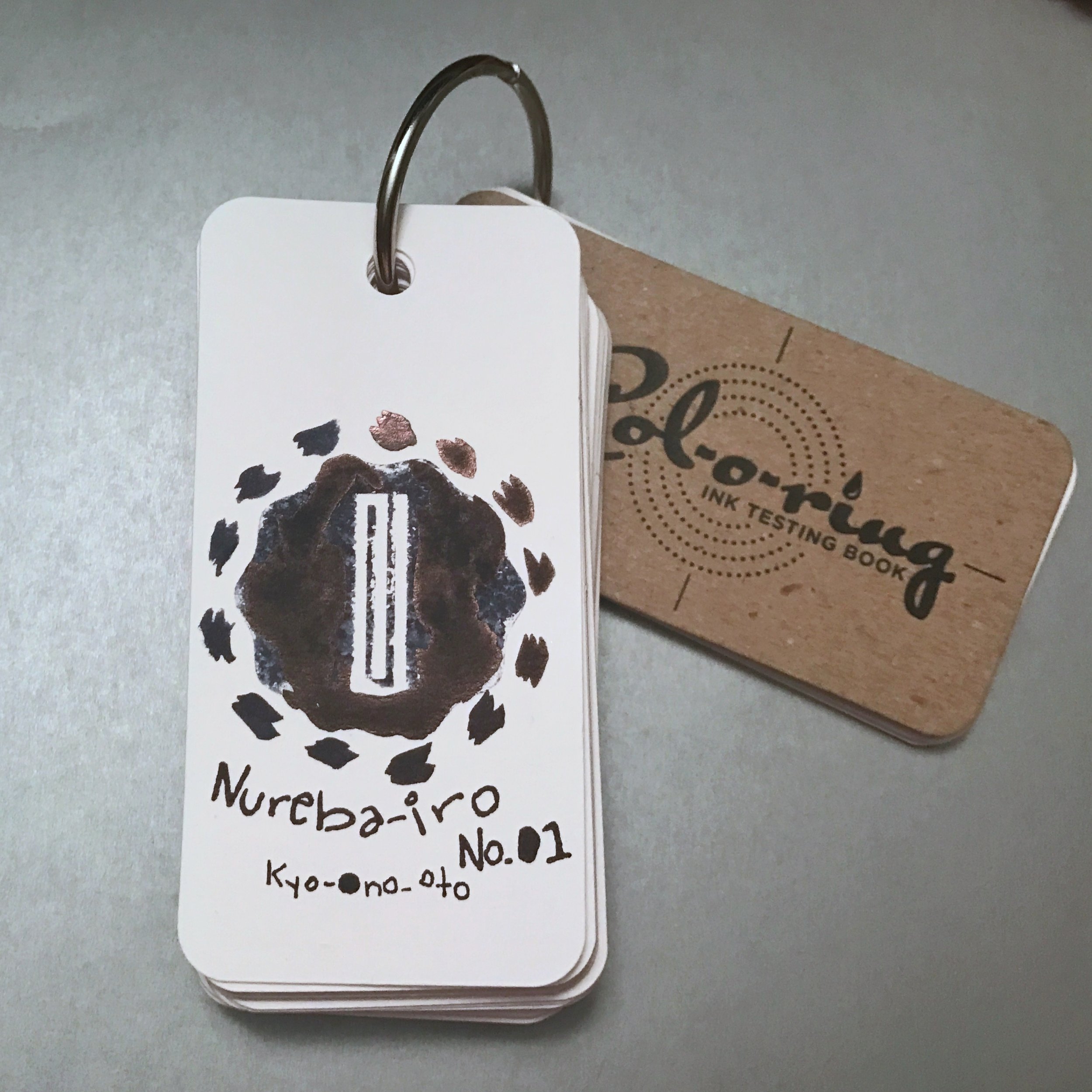 I have some plans about how I want to incorporate the Col-o-ring into future ink tests here on the blog, but in the meantime a Col-o-ring chalk full of ink swabs will be heading with me to the Chicago Pen Show this weekend! It will be great to have a portable catalogue of everything I have back home while I'm out and about testing out new pens and inks. Hope to see you there!